Talkin Trends Q2
August 1st, 2023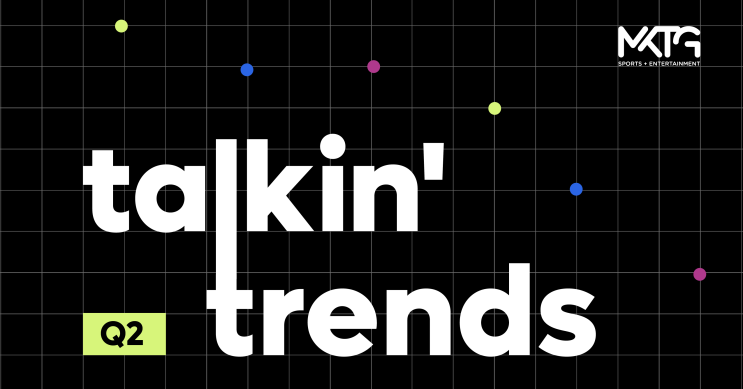 By: Jordyn Patterson @ MKTG
As professional fanatics at MKTG we observe, we listen, we analyze and we stay curious. Our philosophy to trend identification is simple.
· We believe trends are not a precursor to culture – they are culture 
· We believe that true trends reveal themselves across industries + platforms in sports, culture and on social 
· We get to the real story by uncovering the underlying motivators
And all of this enables us (and therefore our clients) to ideate smarter, story tell better, and connect deeper. Now let's unpack a few trends from Q2 that made an impact. 
01 | IRL
The rebound post-pandemic continues, and people more than ever are avidly seeking human connection in-person and straying away from online-only interactions with brands.
IRL In Sport: Sports teams are taking notice, with more "third places" popping up and facilitating gathering before, after, and in the days in between games. Link.
IRL In Culture: Previously online-only brands are showing up IRL with pop-ups to drive retail, drive conversation, and drive engagement. Link.
IRL In Social: The "Hot Girl Walk" went from top TikTok trend to real-life social activity with clubs meeting regularly in major cities. Link.
02 | Joyconomy
Recent studies show that 88% of people are looking for new experiences that will make them laugh and smile – and for good reason, with anxieties, isolation, and economic concerns reaching new heights.
Joyconomy In Sport: Teams are leaning into nostalgia and channeling childhood fun with their in-person experiences. Link.
Joyconomy In Culture: With a recession looming, maximalism is the mental escape people are looking for – and Greta Gerwig's "Barbie" pink pop culture takeover was the perfect fix. Link.
Joyconomy On Social: Romanticizing reality with a cinematic lens and celebrating the random quirks of the people we love were the mood lifts people needed in Q2. Link.
03 | Nouveau Niche
As Gen Z and Gen Alpha get older, the call for more hyper-specific and intentional efforts to engage with niche groups has gotten louder with the ways people define their identities becoming more diverse, intersectional, and fluid. 
Nouveau Niche In Sport: Athletes, teams, leagues, and brands are celebrating the rich heritage and cultures of the diverse and global players and fans that move them forward. Link.
Nouveau Niche In Culture: Intentional, inclusive, accessible design is reaching new heights thanks to social media bringing awareness to underserved community groups. Link.
 Nouveau Niche On Social: Subcommunities are connecting more than ever over shared interests, hobbies, and life experiences. Link.  
To learn more about trend reporting at MKTG or to chat what we're loving lately in sports, culture, or on social, reach out and follow us @mktg_inc.