Talkin' Trends Q3
October 13th, 2023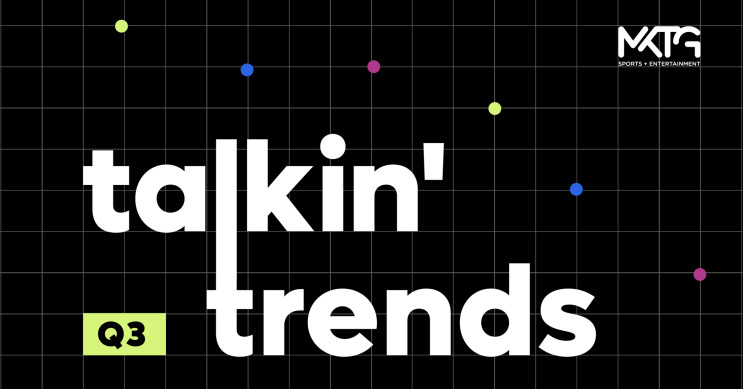 As professional fanatics at MKTG we observe, we listen, we analyze and we stay curious. Our philosophy to trend identification is simple.
We believe trends are not a precursor to culture – they are culture 

We believe that true trends reveal themselves across industries + platforms in sports, culture and on social 

We get to the real story by uncovering the underlying motivators
And all of this enables us (and therefore our clients) to ideate smarter, story tell better, and connect deeper. Now let's unpack a few trends from Q3 that made an impact.
01 | Girlification
Brands are leaning into "girl centric" messaging and tactics around the "girl" experience. A balance of nostalgia and rebellion, women have taken a liking to "girlification" as it takes a step back from the over demanding "girl-power" movement. And for brands leveraging what started as a consumer trend, it clearly delineates them from a sea of neutral marketing efforts. 
Girlification in Sports: Creators are leveraging the style of pop culture commentary to make sports education informative yet engaging. Link. 
Girlification on Social: Fast food chain creates a "Girl Dinner" menu item, jumping on the viral TikTok trend, allowing women to order a little bit of everything. Link.
02 | Fashion x Everything
From outfitting events to creative collaborations, consumers are leveraging what they wear to communicate who they are becoming through innovation and reinvention.
Fashion x Everything in Sports: Sports teams are partnering with highly popular fashion brands to turn jerseys into sought after streetwear. Link.
Fashion x Everything on Social: The affect of influencers at NYFW has caused a lot of conversation if it is still a coveted event. Link.
03 | Extending IP 
By decreasing equity of their own brands and leveraging the IP of influencers and athletes, brands are tapping into an already loyal and engaged consumer.
Extending IP in Sports: With some of the world's most famous soccer players transferring to the states, brands are riding the hype and leaning into the U.S.'s newfound soccer fandom. Link.
Extending IP in Culture: Food franchises are partnering with certified celebrity fans, featuring an authentic connection and high-quality creative to generate talkability and sales. Link.
To learn more about trend reporting at MKTG or to chat what we're loving lately in sports, culture, or on social, reach out and follow us @mktg_inc.