Brands - pay attention…it's the NWSL Championship
November 10th, 2023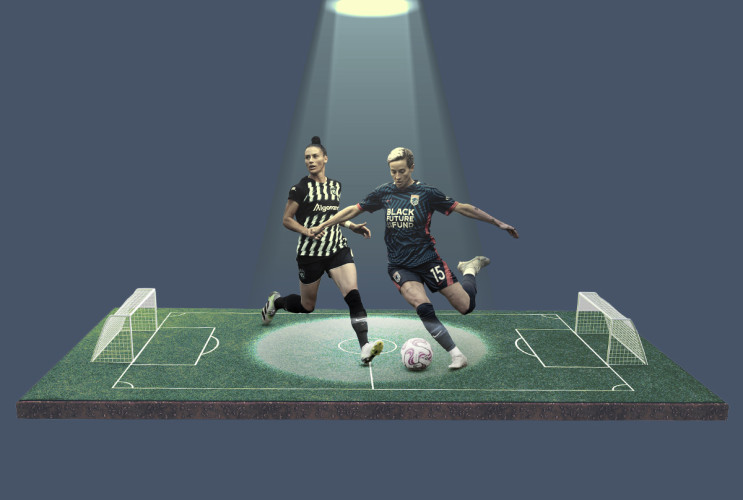 By Alyssa Wood @MKTG
The NWSL has been looking for their game-changing moment and tomorrow's 2023 Championship matchup in San Diego has the momentum to become that shining platform for the League. The game between Gotham FC and OL Reign is not only the culmination of yet another historic league growth, and headline capturing storylines, but the culmination of two athletes in Megan Rapinoe and Ali Krieger, who dedicated their careers fighting for something bigger than a trophy.  
For the second consecutive year, the NWSL Championship game will be in primetime- shown on CBS at 8 pm ET and competing with critical College Football matchups. Looking to surpass its record viewership of 915k for the 2022 final (+71% YOY), all lights will be on Saturday's matchup and expectations are higher than before. 
But for brands that want to make a real impact off the bench, here's three ways in: 
1. More eyes, more prize 
The big news this week was that the NWSL has gone from a single media partner (CBS) at $1.5m annually to four at $60m in 2024 including CBS, ESPN, Amazon and Scripps. Whilst this historic 40x increase in revenue should bring a game-changing benefit to the teams, the players and the grassroots it does present a few new problems / opportunities.   
Firstly, current sponsors will have to increase their overall ad spend to accommodate additional broadcast opportunities for the same share of voice (which presents challenges to those who are already investing heavily within the game). Making the right media decisions becomes critical.  
Secondly, brands (and the league) need to invest outside of linear media to drive appointments to view in what will now be a more complex, multi-channel way to simply find your team's game. Buying and promoting media to drive tune-in to a new scale will not only endear brands to current fans but critically will also open up a new audience of casual viewers who otherwise would not have come across a women's sports broadcast.    
2. Focus on moments, not just the movement 
Too many first-time brands in women's sports can spiral into an angle focused purely on the 'movement' or the campaigning purpose rooted in its history. Whilst this is undoubtably important, the majority of today's women's sports fans want more focus on the 'moments' that make their sport great on the field of play. 
Finding that combination (and a role to play) is critical. Despite the evidence that's been plastered in the media regarding the growth and momentum of women's sports, there's still inequity in the opportunities for female athletes versus their male counterparts. 
One timely example, given the location of tomorrow's Championship game, is the MLS's addition of their expansion team in San Diego. It has been reported that the new MLS team will receive scheduling priority over the reigning NWSL Shield Winner San Diego Wave before playing a single game in Snapdragon Stadium. A savvy brand could step into the breach to fund a change – combining the 'movement' story to help create on-field 'moments'.  
3. Harness fan communities 
Women sport's offers diverse representation with compelling stories, and they have built in fan communities who want to support and engage with their athletes. Engagement rates amongst female athletes greatly outperform their male counterparts – according to SponsorUnited, women's NIL deals boost engagement rates at nearly 8x their male counterparts.  
With passion points across sport, fashion, music, advocacy and culture at large, brands can easily carve out a narrative that aligns to their brand values and resonates. It's a win-win proposition – brands can elevate the game AND make strategic business decisions that directly impact affinity and consideration.  
So, what's at stake during Saturday's Championship match? An NWSL title. But this game's impact on the future of female athletes? We're talking about something much, much more – or in the words of Rapinoe 'Be more. Be better. Be bigger than you've ever been before.'